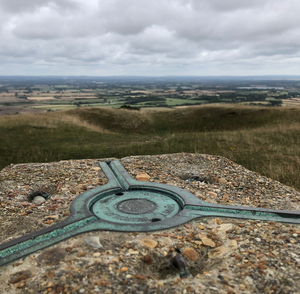 A birthday picnic walk in Sussex
We arrived in the lovely village of Firle, parked up and went to the wonderful village store for picnic supplies.
Walking up through the village from here we passed a fabulous wild flower verge.
Taking a footpath running alongside the wheat field.
From here we could see the hill we were heading for, hoping to have our picnic up on the top.  With each step we got a better look back at the view behind us, stretching for miles. Basil had a stop to take it all in.
As we reached the top, the wind gusted over from the sea.
We walked on up to the trig point. It was way too windy for a picnic here, but luckily, just behind it was a natural dip in the land... sitting down behind here on our PACMAT was quite sheltered and allowed us to relax and enjoy our picnic.. and have a snooze.
After our rest we braved the wind again, walking along the ridge until we reached our path down. As we descended the wind soon dropped and we were able to relax and enjoy the view and fields dotted with wild flowers.
As we joined the path back towards the village we came across the wonderful Charleston with its festival of the Garden. We had a quick wander around the fabulous gardens...
Continuing our walk as the we entered a corn field with a clear path through the green crop with a view leading up towards a folly. 
And onto a path that took us into a dear park. It was misty and had started to rain. We could make out a large country house that looked quite french in appearance.  Later I looked into it, discovering it had been the location for the recent film of Jane Austin's Emma.
We arrived back at the village, by this time quite wet... and took shelter in the Ram Inn.
Later that evening, back at mum's. we decided to watch Emma the film and spot the house and various other places we'd walked by that day.
---