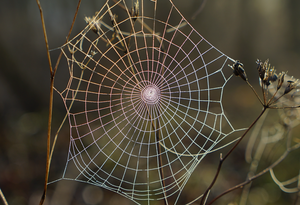 5 interestingly named UK spider species to look out for this autumn
Cucumber Spider
These spiders are green all over besides a small red spot on their tail. They can be found up until October in small bushes and hedge rows. They range from 4-6mm long.

Jumping Spider
This spider does not build a web but rather jumps on its prey. They are small (around 4mm) black, shiny and metallic looking - so look out for them shimmering in the autumn sun.

Running Crab Spider
Running Crab Spiders can be found in the UK from April to October in low growing vegetation. They are also small, reaching approximately 5mm in length. Like the jumping spiders, they do not catch their prey in a web but rather chase after it. Male Running Crab Spiders have black bodies whereas the females are pale brown.

Labyrinth Spider
The Labyrinth Spider is a larger spider, growing to about 18mm long. It is found in long grass and hedgerows between June and October. The spider gets its name from its long cone like web with a labyrinth of tunnels.

Money Spider
These small and harmless spiders can be found in piles of autumn leaves.
Try using the nature Trail PACMAT to find even more autumn wildlife!
Photo by Robert Anasch 
---