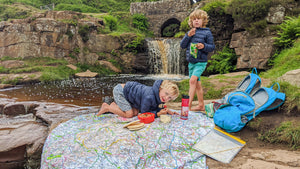 16 Peak District gifts for all the family
Peak District Kids have put together a list of perfect Peaks inspired gifts and we are delighted to be featured! 
https://peakdistrictkids.co.uk/peak-district-gifts/
"For any outdoor loving family, a compact picnic mat is an essential item. Whether you're hiking in the hills, off to the beach, or pulling over for a picnic on an epic road trip, it's always handy to have a picnic mat to plonk your behind on.
Now there are a lot of picnic mats to choose from, and I suppose you could just use a blanket or towel. But for us, we always travel light and so we need a picnic mat that is compact, yet big enough for us all to sit on. Add in durable and waterproof material that is machine washable, and it's a winner for us.
The compact, waterproof picnic mat – PACMAT – from Rubbastuff ticks all these boxes and we adore their PACMAT which features the OS map of the Peak District. A rather unique Peak District gift!"
For more Peak District gift ideas from small businesses, including Peak District Kids own patches and Peak District Kids snoods, read the full article here.
Photo by Peak District Kids.
---